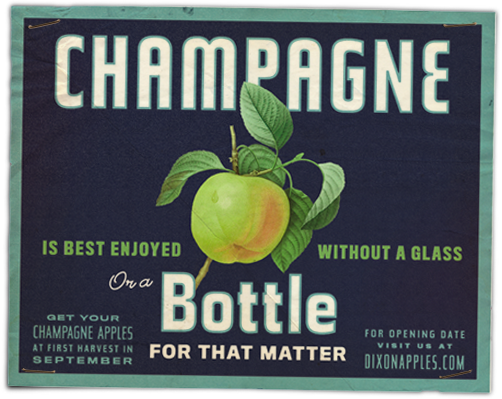 Dixon's is home to our world-famous Champagne apples, a variety discovered and grown first by Fred Dixon. This golden apple with a hint of blush is a firm, good keeper. It's sweet but spicy and juicy for baking and eating. We think you have to taste it to fully appreciate the unique taste and texture. You will be able to taste those and some delicious Zestar, Macoun, McIntosh and Honeycrisp when you visit our orchard.
Dixon's began growing apples in Wisconsin in 2015 and we launched our first harvest in 2019. When Dixon's was in New Mexico, we grew our signature Champagne apples along with Sparkling Burgundy, Red Rome, and Red Delicious. We hope you enjoy this little snippet of info from our New Mexico memory book.
Our 2021 Apple season has come to an end.
Thank you to our Wisconsin locals for another great apple season even though our crop was smaller.
We are SOLD OUT of apples and cider for the 2021 season and can't wait for next year!
Thank you to our New Mexico apple lovers for trying some of our Honeycrisp and McIntosh apples this year and hope we can bring a lot more down next year!
Are you subscribed to our newsletter? Click here to
subscribe
to our Apple Newsletter to stay up-to-date with all things Dixon's Apples!
You can also follow us on Facebook to stay up-to-date and check out apple recipes from other customers!
Order Dixon's Apples
We are sorry to announce that due to late spring freezes, we will not be shipping our apples through the mail this season.
Please check back for updates on our crop next season!
We invite you to sign up for our apple mailing list. This mailing list will provide you with updates on when apples are available for picking and purchase!
Order Dixon's Merchandise

We have t-shirts, baseball caps, long sleeve shirts, can koozies, and sweatshirts available for purchase. Please download our order form, and email your orders to dixons@dixonsapples.com.
Champagne Apples in the News
Apple Gallery