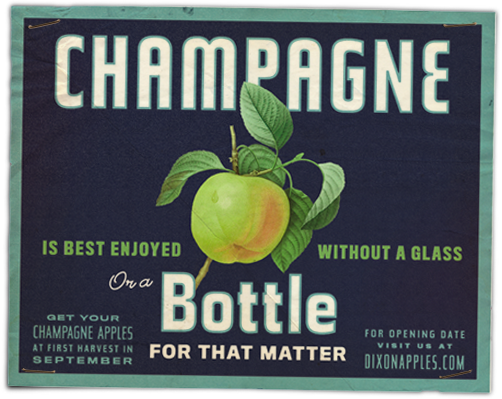 Dixon's is home to our world-famous Champagne apples, a variety discovered and grown first by Fred Dixon. This golden apple with a hint of blush is a firm, good keeper. It's sweet but spicy and juicy for baking and eating. We think you have to taste it to fully appreciate the unique taste and texture. You will be able to taste those and some delicious Zestar, Macoun, McIntosh, and Honeycrisp apples when you visit our orchard.
Dixon's began growing apples in Wisconsin in 2015 and we launched our first harvest in 2019. When Dixon's was in New Mexico, we grew our signature Champagne apples along with Sparkling Burgundy, Red Rome, and Red Delicious. We hope you enjoy this little snippet of info from our New Mexico memory book.
Apple Varieties
Our Zestar apples are ready for you to take home today. You can visit our orchard Friday – Sunday from 9am to 5pm to grab a peck or a half bushel of our Zestar apples.
On September 18th, our Honeycrisp and McIntosh apples will be available for purchase along with our Zestar apples.
Zestar apples – This red apple with a bright rosy-red blush is nice and round. It has a sprightly sweet-tart taste with a hint of brown sugar. Unlike other apples, it is juicy with a light, crisp texture. With one bite, you will savor the flavor and crunch! It's perfect for baking and applesauce.
Honeycrisp apples – This red apple with a hint of orange is full of flavor. The white flesh is exceptionally crisp and aromatic. It has a balanced content that gives a pleasant sweet-tart flavor. This makes for a great snack!
McIntosh apples – This deep red apple with a green blush is round and medium in size. It is well known for having an aromatic, juicy, sweet, and tangy-tart flavor! Perfect for all your baking or snacking needs!
Below is the updated pricing for our apples
Peck $12.00 *roughly 10-12lbs
Half Bushel $24.00 *roughly 20-24lbs
Half Bushel + Dixon's Reuseable Bag $25.00
Refill Your Half Bushel Dixon's Bag $22.00
Apple Cider
Don't forget to ask about our freshly pressed apple cider! Our cider is made from our very own Zestar and Honeycrisp apples. Please keep the cider refrigerated as it contains preservatives. Our cider can last up to a month in the refrigerator or kept in the freezer to be enjoyed during the fall and winter!
Gallon $6.00
Order Dixon's Apples
We have shipping options available during our apple season. Please fill out the form below and email to us at dixons@dixonsapples.com and we will coordinate shipping and payment!
We invite you to sign up for our apple mailing list. This mailing list will provide you with updates on when apples are available for picking and purchase!
Order Dixon's Merchandise

We have t-shirts, baseball caps, long sleeve shirts, can koozies, and sweatshirts available for purchase. Please download our order form, and email your orders to dixons@dixonsapples.com.
Champagne Apples in the News
Apple Gallery