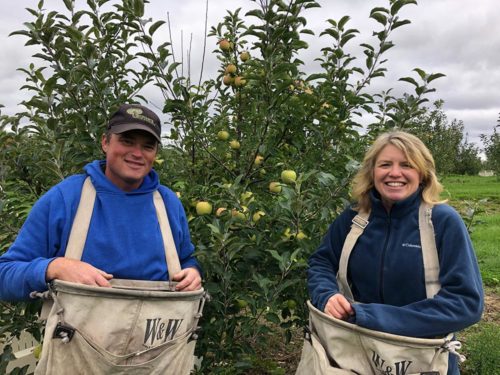 In 1944, Fred and Faye Dixon started a family tradition in New Mexico that has transcended decades; a tradition their granddaughter Becky Dixon Mullane and her husband Jim have transplanted to their new orchard in Cadott, Wisconsin. Dixon's is home to our world-famous Champagne apples, a variety discovered and grown first by Fred Dixon.
From this earth, we've grown apples and enduring marriages. The rustic charm of a simpler time creates the perfect setting for a special day you'll never forget. The intense beauty found in this peaceful location will make the most extraordinary pictures your family and friends will ever see.
Dixon's Apple Orchard and Wedding Venue is a stunning venue for a wedding or a photo shoot, and a warm and friendly atmosphere for business meetings, family reunions, crafting retreats, and more. The orchard is in the Chippewa Valley, not far from Eau Claire and Chippewa Falls, Wisconsin. It's perfect for an afternoon drive through apple country. We're just 1.5 hours from Woodbury, MN and the Twin Cities for a country wedding venue, and we're only 40 minutes from Menomonie, WI.
Set your creativity free as you plan your wedding at Dixon's Apple Orchard in the Chippewa Valley. From engagement pictures all the way through the wedding weekend, Dixon's Apple Orchard offers a charming and serene setting with just the right ambience for your special day. You can custom design every aspect of your wedding day!